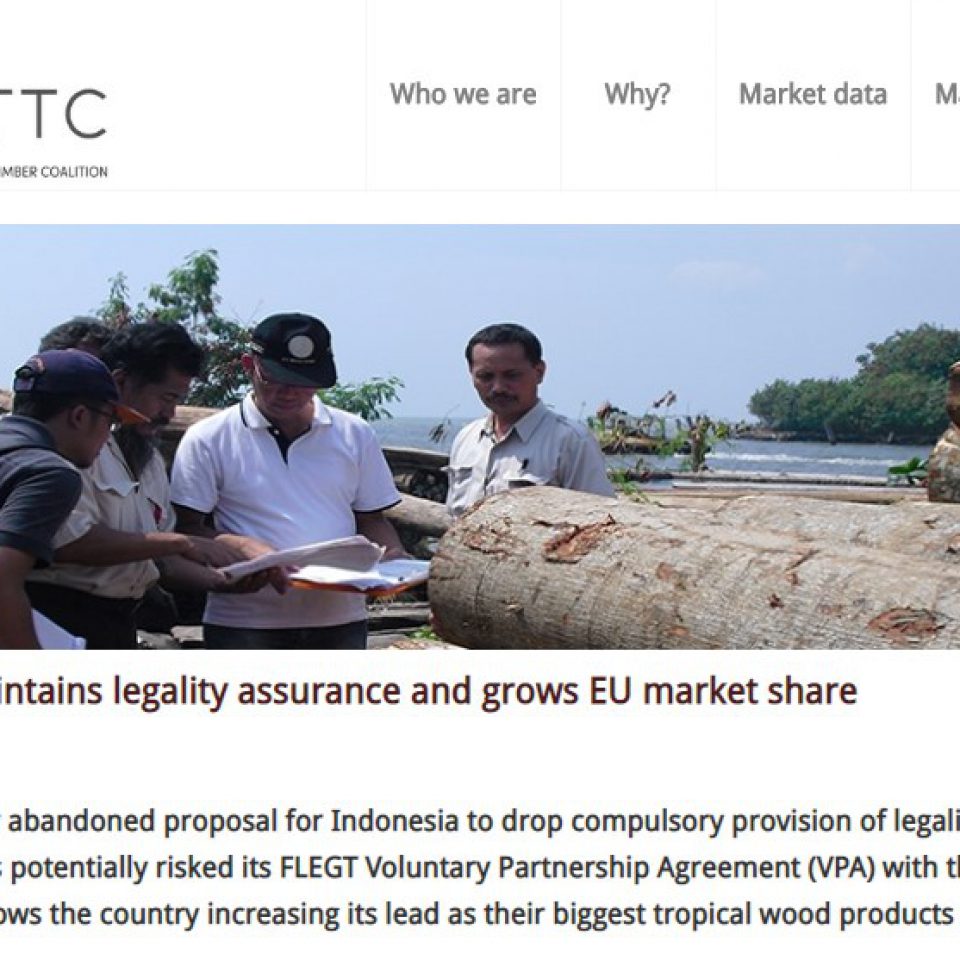 STTC (EUROPEAN SUSTAINABLE TROPICAL TIMBER COALITION)
The subsequently abandoned proposal for Indonesia to drop compulsory provision of legality assurance with all timber exports potentially risked its FLEGT Voluntary Partnership Agreement (VPA) with the EU and UK. Now latest analysis shows the country increasing its lead as their biggest tropical wood products supplier.
The Indonesia trade ministry had proposed a new regulation axing the legality assurance obligation on timber exporters, so they would only have to provide it at customers' request. It presented the step as a means to boost trade through the Covid-19 pandemic. While the EU would continue to have required its Indonesian imports be FLEGT-licensed, there were fears the move would have threatened Indonesia's VPA as it requires exports to all destinations to meet the same legality assurance standard.
The EU and UK, plus their national timber trade bodies, made strong representations to the Indonesian government against the change. Subsequently, on April 30 Indonesian Environment Minister Siti Nurbaya stated that the new trade ministry regulation would be suspended and that adherence to the country's SVLK timber legality assurance system would continue to be mandatory for exporting all forestry industry products. She also announced new funding to support the SVLK certification process at micro, small and medium-sized enterprises (MSMEs). "The main thing is Indonesia still wants to maintain SVLK as one of our major investments for the long-term interests of sustainable forestry businesses, especially MSMEs, as well as for the benefit of our forests," Minister Nurbaya said.
In its latest market analysis, the FLEGT Independent Market Monitor (IMM) said the continuing rise of tropical timber exports from suppliers outside the process, raises questions about the benefits of FLEGT licensing in overall competitiveness in the EU and UK market. However, it notes that in 2019, there were 'positive gains for Indonesian FLEGT-licensed timber' in the EU and UK. While their overall tropical wood imports (including furniture) rose 2.2% to $4.56 billion – the highest level since 2007– those from Indonesia declined in volume, but increased 5% in value to $998 million. "Taken together this implies a positive improvement in the unit value of imports from Indonesia, which were focused more on furniture than lower value wood products during the year," states the IMM. "Indonesia accounted for 21.9% of the total value of EU27+UK tropical wood-product import value in 2019, up from 21.3% the previous year."
Source : http://www.europeansttc.com/indonesia-maintains-legality-assurance-and-grows-eu-market-share/